There are different types of springs. Compression springs, torsion springs, spiral springs, and tension springs are the most common springs to be named. Two of the most common types are compression and tension springs. Both are an integral part of different industries like automobiles, smartphones, electrical appliances, etc. These springs lie under the category of helical coiled springs. However, there are significant differences between both that distinguish them.
Based on these differences, both springs offer different features with different functionalities. In short, tension springs are closely connected to multiple components. On the other hand, compression springs maintain a significant distance between them. This article will present a thorough comparison between compressions springs and tension springs.
Tension Springs
Tension springs are a type of coil springs. These are closely-wounded coil springs to keep the components hooked together. They enable the tension load to stretch. This stretch then keeps the objects hooked together by exerting a force between them.
Products like levers, catches, and brakes are prominent examples of the use of tension springs. Industries such as automobiles and heavy industries use tension springs for different purposes. Moreover, tension springs are also used in garage doors for counterbalancing, in trampolines for storing energy that pulls back the surface to its original position, and in the farming industry.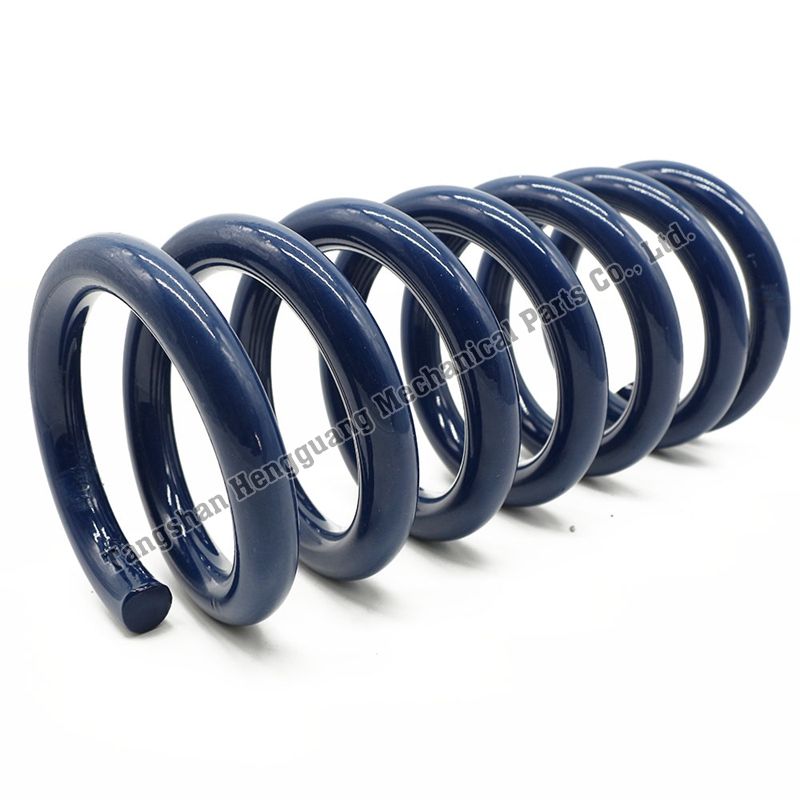 Compression Springs
In contrast to tension springs, compression springs work oppositely to keep the components away from each other. Compression springs become shorter in length when the load is applied. However, it repels back against the applied force and gets back to its original position as soon as possible. This working mechanism is utilized in different domains to avoid the collision of components.
Different industries and domains make huge use of compression springs. Products and parts like actuators, suspensions, dampers, and valves are incomplete without compression springs. Apart from that, compression springs are available in every household. Compression springs are present in pens, smartphones, clocks, door handles, lawnmowers, electrical appliances, etc. One of the main reasons for compression springs' heavy utilization is the availability of different shapes and designs. Compression springs are available in cylindrical, conical, reduced ends, and hourglass shapes to work efficiently according to the requirement.
Which material is used in the manufacturing of compression and tension springs?
Although the functionality of both springs is opposite to each other, both can still be manufactured with the same material. However, there are different materials for manufacturing compression and Heavy Duty Tension Springs.
This variety is available because there are different factors involved in it such as temperature, probability of rust, and the level of stress. Due to these factors, both springs use stainless steel, cold drawn wire, titanium alloys, bainite hardened strip, hardenable spring steel, Cold drawn and cold rolled low-alloy steel, and copper alloys for manufacturing. other touch screen products.
Both these springs are contradictory to each other in terms of functionalities, yet they offer great services in different domains.